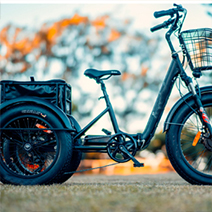 Buy a Trike from Kids Ride on Cars
A trike is a helpful vehicle when you are going shopping or on a picnic. It is like a simple bike but with three wheels. You can enjoy the cycling experience on a three-wheeled bike known as a trike or a tricycle. You can buy a trike from Kids Ride On Car at the most affordable price and enjoy riding around the town. 
Features 
The tricycle at our store has a solid and durable steel frame. There are a front wheel and two rear wheels, which give stability to the trike without maintaining the balance as you do in a bicycle. The tricycle is easier to ride on. 
There are adjustable handlebars according to the height of the rider. There is a basket at the back of the tricycle to keep your things in it, so it is a suitable option to take along with you on your picnic. There is a comfortable cushioned seat in the middle. There are front and back brakes for speed control. There is also an electric trike that is easy to ride for everyone. The riders with disabilities or injuries can also hang this tricycle. The electric trike works as a motorbike.
Why choose Kids Ride On Car?
Kids Ride on Car is transparent towards its customers through detailed descriptions and clear images. It offers discounts to the customers, so the products are easily affordable by anyone. You can also make fast and secure payments through several payment options, including Afterpay, making it easy for customers for a product with a low budget. They can choose to buy now and pay later service to get the product in use but pay later in easy installments.