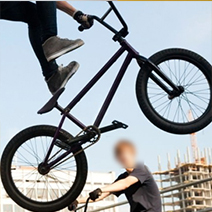 For the Advanced Generation- Stunt Bike Buy Now
The new generation of kids are just all about digital gadgets and PlayStations, and they rarely go out to play physical games or take part in physical activities. It's time for you to give your kid something for physical activity. A stunt bike can be a good option for you to start training your kid for physical activities.
 Cycling is a most beneficial type of exercise as well as a sport. It boasts most of your body parts and keeps them active. A stunt bike is an advanced and up-to-date version of the cycle. It requires more energy leading your kid to have a more energetic personality. 
Australia's Top Toy Platform
Kids Ride On Car is Australia's #1 Retailer established in 2013 and has been a family-claimed and worked business. We are privately owned and operated; we flourish with client support and ensure we offer our clients the best stunt bike at serious costs. We guarantee all accessible children's toys, including stunt bikes, are produced using high-grade materials and are affirmed by Australian principles.
 Every single Ride-on Toy and stunt bike we sell is altogether checked and tried, so all the toys are ok for your children. The Bmx bike can be the best source for you to keep your kids active. You can buy all Bmx bike from us as we deal in Bmx bike for beginners to the pro level. We have the most extensive collection of these bikes catering to the needs of people all over Australia.