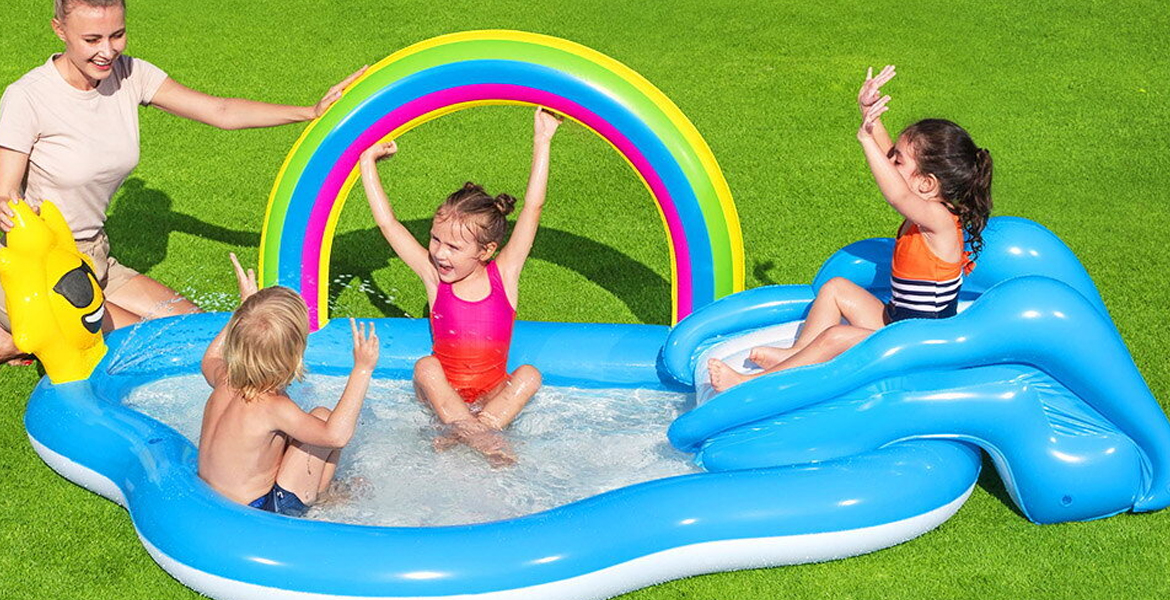 Best Buying Guide for Kids Pool You should Read Before Buying
Investing in an inflatable pool is a clever and practical method to keep your children busy while they are at home. As a parent, you can't simply let your children spend their summer vacation locked up in a room with their devices, as most of them are today. It may be tough to persuade children to go outdoors as a result of this. This is when the Kids Pool comes in handy!
The advantages of a Kids pool are many. Having a Kids pool in your backyard eliminates the need to pack up and go somewhere, and it offers hours of fun and amusement throughout the summer. It doesn't have to be filled with water. There are many ways to utilize the pool, like constructing a ball pit, a fishing pond, or a sandpit. When you use your or your child's imagination, the possibilities are limitless.

Consider these Factors While Choosing The Finest Kids Pool
Now that you've decided that letting your child cool down and splash about in a Kids pool is the greatest method to allow them to enjoy summer, it's time to look for the finest Kids pool for them. Choosing the finest Kids pool for your children is not an easy job. Deciding in the Inflatable pool aisle of the shop may be difficult due to the many alternatives offered. To assist you in making a better choice, I've included some of the essential things to consider while choosing the finest Kids pool.

Size and Age
Kids pools come in a variety of sizes, just like children. Their age generally determines kids' sizes. A one-child Kids pool, for example, is ideal for a baby, but toddlers need a much bigger pool. Smaller Kids pools, essentially outdoor baby tubs, are ideal if your child can sit up and enjoy a little splashing. A smaller kid should swim in a pool that is more appropriate for their size.
 A standard Kids pool, which is usually intended for toddlers up to two, is appropriate for them once they know how to walk and splash. Older children need additional room since they may want an inflatable pool or pool accessories such as a water slide in addition to their size. In conclusion, choosing the appropriate pool size for their age and size is critical for safety and enjoyment.
Hard Plastic VS Inflatable Vinyl is the Two Materials That Were Utilized
The most significant advantage of a hard inflatable pool is that it is simpler to put up since you pull it out of storage, and voila! It's already ready to use in a matter of minutes. Because hard plastic pools are also lower in height, watching youngsters from a distance of a few feet is no issue because you can see everything going on whether they are sitting or crawling in the water. You may also be certain that they will never be unable to swim since the water will never be too deep for them.
However, the disadvantage of hard plastic Kids pools is that the edges may be excessively sharp, possibly scratching your child. Therefore you must take additional precautions to ensure that the edges are not dangerous to children when playing in the pool.
 Another drawback of this kind of Kids pool is that it takes up a lot of storage room, which some of you may not have. Inflatable vinyl Kids pools are the most popular kind of pool for children. 
Sharp edges won't be a problem with this pool compared to the hard plastic Kids pool since it has soft, bouncy sides that minimize the risk of your child being injured. Storage is also not a problem since it can be deflated and folded when not in use, taking up very little room.

Durability
Kids pool are only intended to last a few years, which is great since your children will grow over time. However, this does not imply that you should settle with flimsy Kids pools! While it's nice to know that the Kids pool will last more than one summer, you should be sure to buy one that will last longer so you can receive a greater return on your investment.
Transportability
Inflatable pools, as previously said, do not take up a lot of storage space. This also implies that the inflatable water slide is less difficult to transport. A hard Inflatable water slide may not be able to fit in your vehicle if you wish to travel on vacation somewhere without a pool.
A Ride on Cars AfterPay may be deflated and folded, making it simpler to store in the trunk or rear seat of your vehicle. The air pump that comes with it generally doesn't take up much room as well. Yes, inflating it takes a lot of time and work, but its mobility more than makes up for it.
Price
Kids pool should not be seen as a long-term investment. It's something you purchase, intending to get as much usage out of it as possible. They are usually not intended to endure more than a few summers, which is great since your child will grow up. Consider it a memory-based investment rather than a long-term one. 
Every dollar spent on an inflatable water slide is matched by the immeasurable pleasure it brings to your children every time they want to play in the water outdoors. The good news is that neither the hard plastic nor the inflated vinyl versions are prohibitively expensive. Inflatable water slides made of hard plastic are less expensive than those made of vinyl, although the difference isn't substantial enough to be a problem.

Safety
It's essential to remember that children should always be supervised while playing in an inflatable water slide, no matter what kind of pool you choose. Don't leave it all alone, it won't effect good on it.
Get your choice of Pool with Ride on Cars AfterPay simple payment option and great savings when you visit Kids Ride On Car.